(I have to admit seeing your imaginary friend with a surf board must be pretty cool)
Crenshaw by Katherine Applegate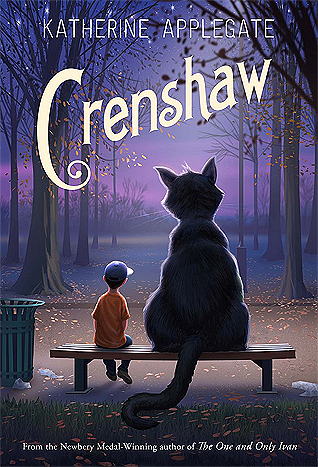 Rating: three stars
Jackson is an intelligent boy who wishes to be a zoologist. Jackson has a lot of questions and a lot of worries that should not be for his age. His family is facing some financial difficulties and they have to leave their home. Suddenly, the night before they depart, his old imaginary friend comes back.
Weirdly this book was called Skiddy in french and not  Crenshaw, I still haven't figured out why….
I was pleasantly surprised by this book; I originally picked it up because the cover was great, but it has a lot more feels to it than the cover let you think. The plot is a little bit disjointed because the flashbacks are mixed with the present. But once you figure out what is happening it flows.
I really liked the idea of imaginary friends coming back when children need it and also that they all wait somewhere for you. I think this book will be perfect for middle graders but as an adult it missed something. I mean it was good but it was a weird mix of children preoccupations and adult's ones, it could have been good but I am not sure if children would get the entire psychological spectrum behind it.