(To be honest I laughed so hard when I read that scene that I had to picture it for you guys lol)
Obsidian (Lux series #1) by Jennifer L. Armentrout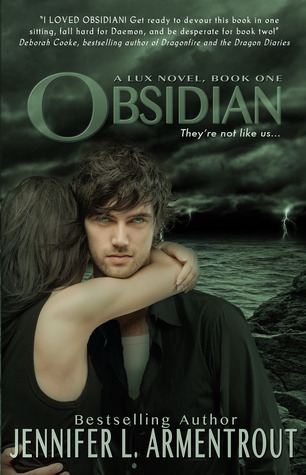 Rating : three stars
Katy moves into a new town with her mother. She soon realizes that there is something weird with her neighbors. The twins have apparently a lot of secrets and know something about the disappearing girls in town. As the school year starts Katy is getting closer to them and realizes that they are in fact aliens. The down part is that they are some sort of demons chasing them and Katy needs to be protected and for that she is to be followed by male twin Deamon an insufferable good looking asshole.
Okay, get where this review is going? If you know me you know I love criticizing YA books. Especially does who have an apparent Twilight-y feeling from the start (oh yeah this review is slowly turning into a rant). From the beginning I was thinking this is giving so many flashbacks from Twilight… Except the writing was better. I have to give this to J.L. Armentrout she is a good storyteller, not a mind blowing one but still not a bad one.
So imagine myself getting excited because hey aliens and hearing everyone praising this series. Get the picture? Now, picture me reading this and be absolutely disappointed when Armentrout tried to explain how their powers work. Basically, the alien can have different powers and they come from light, Deamon can stop time and travel light speed fast even faster (How is that even scientifically possible?). And how did Armentrout explained that? Well let me quote "I'm not a scientist, so I don't know how it works, just that we can." And that ladies and gentlemen was it! In a nutshell she was treating the reader like a child saying "That's the way things are". How quaint!
I was so annoyed with this part… But the rest is your normal YA story: girl fell in love with supernatural boy, they have a sort of impossible story because they are not the same species, and enemies try to get to said girl yadayadayada.  So nothing extraordinary. And that is what I am getting at, this book was not awful, but it was definitively not mind blowing. I will not continue this series at all and sorry if you liked it but it was not for me.
Do you like YA? What are some elements of YA genres that you hate? Does anyone know a good YA fantasy book and/or series that is actually well written and not trope?